Are you ready to plan your customized home theater? The best movie experiences come from having a warm, enjoyable setting where you can spend time with your loved ones or close friends.
Expert Tech is willing to help with media room construction. Our services include everything from installing a speaker sound system to generating small home theater room design ideas! Using modern home theater systems, we develop smart home experiences and construct a personalized in-home cinema for you.
In New York City or Brooklyn, Expert Tech is a well-known company you can undoubtedly trust to design home theater right at your house.
Plan the Right Home Theater Design for Your Room
Finding suitable home theater media room designs may not be easy since the market is very diverse. What you'll need may depend on where you intend to install your system, how you want it to look, or what quality you want it to be.
Large speakers may be too much for a small space, whereas a soundbar cannot provide enough sound to fill a large room. That's why you should take a look at our equipment guidelines for room sizes and functions:
For spaces like dorm rooms, small-speaker component systems could be appropriate.
The compact component system would successfully work in an apartment living room.
A component system for a larger living room may be a good option.
It strongly depends on what size your home cinema room is. You can choose a system that fits and is affordable for you.
The right home theater room design is essential when assembling a home theater system you'll love. However, even if you don't have enough money, the most affordable soundbar may be a good choice.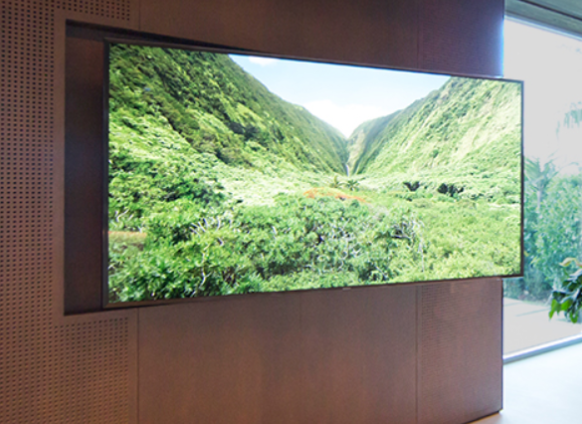 Most Popular Home Theater Design Ideas
It's not a big surprise that home theaters are gaining popularity worldwide. Going to the cinema on the other side of town may not be that much fun anymore if you can get better comfort at your own house.
Audio systems for home theater vary and are divided into 4 main categories:
1. Inbox Systems

Inbox systems for home theater often include a CD player, a subwoofer, and five surround sound speakers.

2. A soundbar

A soundbar is a long and thin bar with many loudspeaker drivers within. Typically wireless, a subwoofer is a common feature.

3. An audio & video  receiver, speakers

An audio & video receiver, speakers, and other source components make up a system.

4. Preamplifier and Power amplifier

Component systems use a separate preamplifier and power amplifier in place of the receiver.
Process of Building a Home Theater: How it Works
Every project begins with an initial consultation, during which we meet with you to discuss your needs, suggestions, and budget for the media room or home theater. Expert Tech can offer advice on the ideal room for a bespoke home theater installation and the particular features and components to choose from.
Our team believes that analyzing everything in detail, including specific seating arrangements, specialized acoustic wall treatments, media cabinets, and hardware components like amplifiers and audio/video processors, is crucial for professional home theater design.
After signing the contract, we will begin the process of ordering the project-related equipment. You can be sure that the newest, high-quality products from the most trustworthy manufacturers are recommended and installed by us. We will also recommend screen sizes, projectors, speaker types and placement, and media cabinets.
Remember that we're here to bring the entertainment in your house to life!
This means that everything you need will be taken care of by us. Bringing in the necessary equipment, making bespoke furniture, hanging the Ultra HD, 4K, 3-D, LED screen, placing the inwall speakers, installing cables, media cabinets, audio/video equipment, or any other requirements.
Convert Your Room into a Home Theater with Expert Tech!
Choosing the right home theater design can be a very stressful process. However, with Expert Tech, you have much less weight to carry by yourself.
We actively cooperate with our customers to provide the highest quality, modern home theater design systems and installation services. We promise our customers that they'll get the best prices.
So, if you're thinking of a home theater design, contact us right away