Conference Room Audio Video Solutions
Are you planning to make your team function more effectively? Maybe you want to engage the team or organize the workflow more effectively. In any case, you should consider modern conference room audio video solutions and seamless communication for your office.
The truth is that more and more companies are investing in efficient boardroom AV solutions. The reason is that the conference room serves as a focal point for effective teamwork.
A well-equipped conference room has countless benefits for the organization. But most importantly, it gives the freedom to participate from any location and adapt to many meeting types.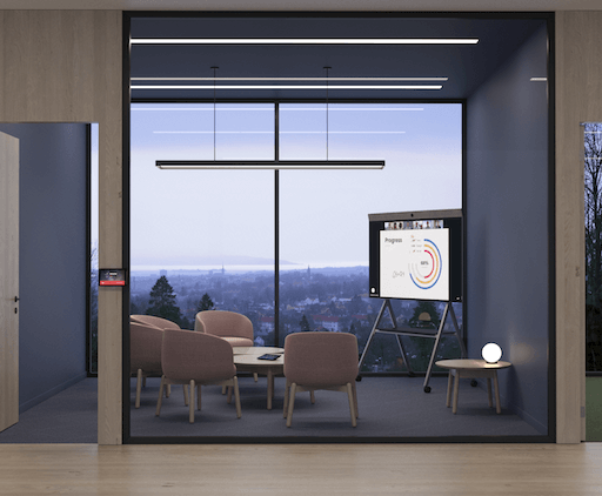 Straightforward control, rapid meeting start-up, access to crystal-clear audio, sizable, bright presentation screens, and straightforward communication with distant participants may seem like a difficult task, but Expert Tech will take care of it and provide high-quality AV solutions for your conference rooms in the NYC and Brooklyn areas!
AV Solutions for Modern Meeting Rooms
The design of modern meeting rooms varies, but the principle is the same – effective functioning gives you the possibility to move smoothly from an individual task to group collaboration, where audio video solutions have a crucial role. What does it mean?
It means that high-quality service is what you need in the first place!
With ExpertTech's assistance, you'll have access to cutting-edge audio-visual technology. We will provide a standardized user experience that encourages creativity and allows staff members to perform to their highest capacity, regardless of where they spend their working days.
AV Solutions for Mini Rooms
Conference rooms may differ in size. For relatively small organizations, mini rooms are the ideal solution. These types of rooms are comfortable for one or two individuals to collaborate on a project or video conference with a larger team.
The most optimal boardroom AV option for the constrained space has a wide-angle field of view and is compact.
AV Solutions for Huddle Rooms
The Huddle Room is a regular-sized meeting space for smaller teams and subteams. They can convene in huddle rooms and other cramped areas to work together in real-time.
In this case, a sophisticated video conferencing system is recommended. Your conference room AV solutions may include wide-angle lenses, compact forms, and plug-and-play installations.
Common Features of Conference Room AV Solutions
Today, video conferencing is employed throughout all sectors of the economy. You presumably use a phone conference system if regular contact between employees, clients, or suppliers is necessary for your business.
For more significant gatherings, relatively large conference rooms and boardrooms are appropriate for in-person and online conferences with clients and distant team members. With dual-screen configurations, you may share a presentation on one screen while viewing video participants on the other. They need higher resolution cameras with optical zoom, in addition to additional microphone pickups.
Compared to a conventional audio system, video conferencing offers a far better experience than a conventional audio system. It improves situation management, decision-making, and working relationships. Video conferencing allows for greater flexibility while also saving time and money. Participants may communicate more simply and interactively.
Our Partners — the World's Leading Conference Room Providers
Combining outstanding aesthetics with modern technology to provide a professional boardroom AV solution experience is critical for increasing team performance, right?
To find the best solution for your conference room, we collaborate with a wide range of technology manufacturers to create the greatest boardroom AV system.
Currently, we actively cooperate with authoritative technology brands such as:
Logitech: A Multinational Swiss-American producer of software and computer hardware.
Polycom: American multinational firm that creates collaboration and communication technologies for voice, video, and content.
Smart: Specialized in the production of electronic parts such as waveguides, switches, and antennas.
Sonic View: Taiwanese-American multinational electronics corporation.
Why Should You Choose Expert Tech for Your Boardroom AV Solutions?
This way, we are sure that the result you get is well-planned and highly organized. As a result, you get professionally designed meeting rooms with proper boardroom AV solutions that allow you to feel like you are in the same room, regardless of your location.
Every sort of meeting space should have high-quality conference room audio video solutions that come in high-quality and proper resolution. Expert Tech provides boardroom AV solutions by collaborating with top hardware manufacturers and web conferencing companies.
What service do you get if you choose Expert Tech?
Video solutions with plug n play connectivity and simplicity
Cutting-edge wireless communication technologies
Seamless Connection with Multiple Communication Systems Interoperability
Designing and establishing your meeting rooms
Aesthetic design and professional deployment
Take Steps Forward – Contact Our Team at Expert Tech!
If you live near NYC or Brooklyn and are looking for conference room AV solutions, our skilled team of designers, programmers, and engineers can equip your boardroom with an excellent system.
Collaboration with the top-tier conference room providers gives us the possibility to build up your boardroom with the most personalized conference room audio video solutions and, most importantly, at reasonable prices.
Want to read more about us to get clearer ideas about our team and the service we provide? Check out our 'about us' page!Get a free estimate