TV Lift Cabinet – A New Must-Have for Your Futuristic Home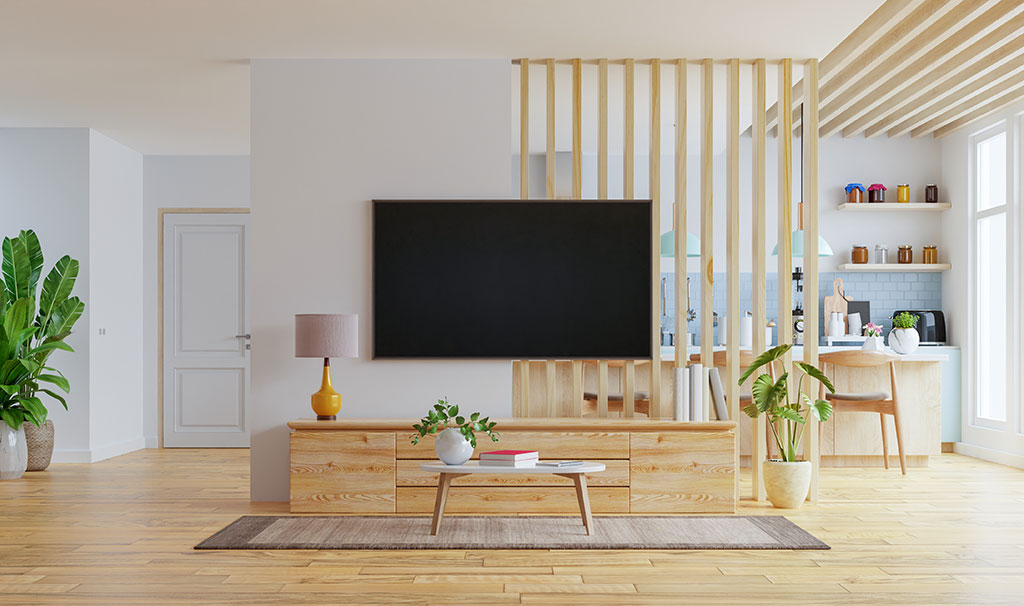 Do you tend to seek comfort while lying down, watching your favorite show on TV? If so, chances are that you've heard about the TV lift cabinet. The television has changed its meaning and isn't the only part of the living room anymore. So now it's possible to make space for TV where it previously appeared impossible or improbable.
Thanks to modern technology, people now install televisions in places like cupboards, bedroom frames, open-air terraces, and even concealed behind fireplaces. A TV lift cabinet will make your life much easier.
With the help of ExpertTech, you can professionally install an automatic TV lift in your house. This is the must-have detail that will make your home more futuristic!
What is a TV Lift Cabinet?
electricity to elevate television sets out of furniture such as retractable TV cabinets, partition walls, or ceilings. This automated approach has advantages in safeguarding the device from damage and making the best use of available space.
TV elevators have historically been regarded as a high-end amenity only fit for luxurious residences, apartments, and meeting spaces. But because of the general improvement in living standards, their rise in popularity, and the vast array of these products on the market, the overall project costs of installing a TV cabinet with a lift mechanism are currently considered to be somewhat reasonable, especially with the ExpertTech.
5 Surprising Reasons You Need a TV Lifts in Your Home
If you still haven't decided why to install TV lids, we've gathered 5 surprising reasons. They're becoming increasingly popular, bringing a futuristic look to homes across the country, and TV lifts offer benefits beyond aesthetics:
1. Safe For Kids
It is now possible to provide a secure atmosphere where kids can play and watch TV without worrying about getting hurt or having an accident. Thanks to TV lift cabinets, you don't have to worry about your TV endangering your child's safety.
2. Saves Space
Wall-mounted TVs have long been a favorite among homeowners who like a simple, clean look in their homes. A pop-up TV cabinet could answer your space-saving and clutter-reduction problems in the living room.
3. Flexibility and Convenience
Wouldn't it be wonderful to have a TV mounted on your kitchen cabinet so you could watch something in the background while preparing food? With the help of our premium TV lifts, you can transform practically any surface into a concealed TV cabinet! We can install screens in locations where a TV wouldn't ordinarily survive.
4. Your TV Is Protected
Damage to a TV could cost you hundreds, or even thousands, of dollars in replacement costs. TVs are pricey. Children can be real destructors when they play, as anyone with children will attest. However, your TV is protected by a TV lift, and you don't have to worry about accidental damage.
5. Impress Visitors
When you invite friends and family around, amaze them by conjuring a TV screen to surprise them. Additionally, if you own a business, they're a fantastic way to present a high-tech image to potential business partners, investors, and clients.
What Are the Different Types of TV Lifts?
You must be informed of the several varieties that manufacturers currently offer, as well as their benefits and drawbacks, to decide which automatic TV lift will work best in your space.
The main types of TV lifts include the following categories:
Specifically made to allow the TV to be hung vertically and dropped down when the machine is expanded, drop-down TV lifters are used to lower the TV. These TV lifts are designed to enable you to have your TV drop from the ceiling or out of a cabinet.
Pop-up TV lifts have a mechanism that extends upward, revealing the TV, and retracts downward, concealing it. These lifts are perfect if you want to conceal your TV under a dresser, inside a cabinet, or remove it from a protective case for outdoor use.
These systems are made to work with monitors that are between 15″ and 42″ in size. Manufacturers create monitor lifts with a display already fastened in place; the pop-up lift's lifting mechanism is nearly comparable. However, the placement of the motor and the other electronic components differs.
This one can be adjusted to any automatically changing wall panel and offers possibly the broadest selection of design options. While others use belts and grooves, some run on cable hoists and guide rails. All of them accomplish the same kind of motion, regardless of their differences in construction.
Systems of this type come in various sizes to accommodate the dimensions of different photographs. During installation, the rear picture frame must be bolted, clamped, or fastened to the lifting system's aluminum frame. One needs to slide the image up or down to reach the screen using the remote control.
The swivel system is fastened to some vertical surface, be it a wall, a cabinet, or a piece of furniture, similar to any flat-screen wall bracket. Depending on the direction of mounting, it can be rotated either left or right. This enables viewing from various angles and places.
Choose the Right TV Lift with Expert Tech!
It's crucial to purchase the proper TV lift, stand, or mount for your requirements. Depending on your needs, you can choose the best TV lift, but for wiser choices, speak with the right installation firm beforehand. Proper installation services are necessary for high-quality equipment. Simply get in touch with ExperTech if you reside in Brooklyn or NYC, and we'll walk you through it.
A few advantages of ExpertTexh are as follows:
We fully comprehend your needs and carry out all of your goals. We ensure that our specialized solutions are simple and keep up with.
Our guiding principles as a top home technology integrator in New York City and a licensed audio/video installation company are quality, value, and performance.
We offer top-notch assistance and continuous maintenance for all of our projects to promptly and effectively address any problems.