Build Your Ideal Video Game Room in a Basement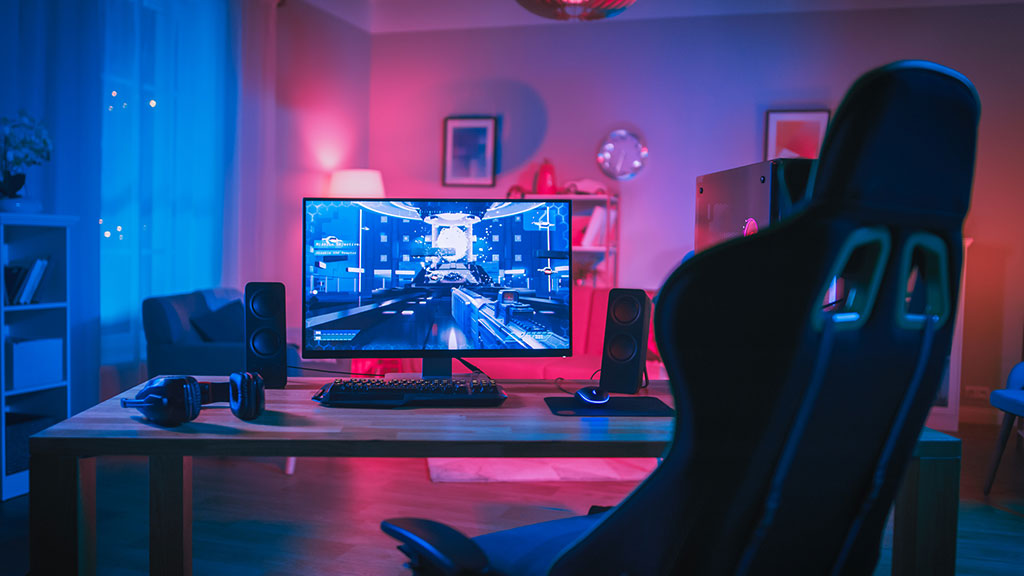 Some people can spend weeks in a virtual world, while others are likely to prefer shooter games with friends. The two types are different but have one thing in common – their gaming sanctuary. And if you have some experience playing video games, you know that your impressions and even whether you win or lose pretty much hinge on the comfort, convenience, and correct use of the space.
Expert Tech will talk about video game room ideas for your basement in this article.
Why a Basement Room?
Basements have many natural advantages for gaming rooms. First, they don't have windows, and the concrete floor eliminates vibrations. Besides, foundation walls are also poured concrete, which prevents late-night sounds from bothering your family members or neighbors. The absence of windows is a great light control – you don't need to make an effort to darken the room for the horror gaming experience.
What Should a Video Game Room Have?
The first thing to cross the mind is a huge gaming monitor that displays the best RGPs on a PC or console. Some online games on a PC are best played when connected to multiple monitors to control your game and view where your allies and rivals are at the same time.
You can't do without high-quality HD stereo sound to create an immersive experience. Finally, the room must have stylish and comfortable furniture to enjoy long hours of gaming sessions.
Transforming Your Basement Into a Gaming Room
If you want to turn your basement into a gaming space, you first need a gaming chair. For example, a Leather Gaming Chairs by Karnox is an ergonomic solution for the ultimate gaming seating experience.
Smart lighting, decorations, and storage racks for discs and gaming magazines will be a nice addition to the design. When remodeling your basement, you need to keep the whole picture in mind to ensure harmony in the interior design.
Who will avail of this blog post? Players of strategy games, fans of MMO top RPGs, connoisseurs of good action games, and happy owners of brand new latest versions of consoles. So, here are 9 video game room ideas for your basement.
Ideas for RPG Gamers
Almost any RPG game takes you to a fictional virtual world where you are the one who controls and chooses characters, makes decisions for them, and makes them what they are.
Gamers love RPGs for the atmosphere and experience. So we recommend that you consider getting the widest possible screen. A curved panoramic monitor will reveal all the beauties of magical worlds on your PC.
The curved 4K monitor is also ideal for console gaming, as it delivers the highest picture resolution.
Fans of a specific RPG game can decorate the gaming place with themed items. For example, a room decorated in the spirit of a tavern from Dungeons & Dragons will certainly make a difference. And when you play enough, the scenery will remind you of a world full of meaning and mysteries.
Ideas for Shooting Video Games
What makes an experienced shooter? Exactly, a steady hand, even in the most critical scenes. Whether you are a sniper or other shooter, you need adequate lighting around the table. Too many neon lamps will distract your attention.
A gaming chair that allows you to lean back and focus on what's happening on the screen is a great advantage. Look for chairs with a maximum back angle, so you can adjust the most comfortable position to direct sight to the weapon quickly.
You will also need a desktop or wall-mounted audio system like GigaWorks T40 Series II to experience the adrenaline rush fully. Thus, the shot bangs will create a real vibration of walls, a chair, and the floor under your feet.
Finally, if you're a stream sniper playing on a desktop PC, a backlit keyboard will be ideal, so you don't have to search for the right key in the twilight of your gaming room.
Video Racing Game
Are you crazy about speed? Why not spend some money and time transforming the basement video game room into your own race car interior?
You can start with visual effects. After all, what's the point of decorating a Formula 1 car salon if you don't have a panoramic view of the track?
Therefore, we recommend installing three monitors. This will provide a perfect view of the track and other cars when positioned at the right angle. You can overtake rivals and come to the finish line first.
A steering wheel with pedals is a must for a gaming racer. The ideal option is a controller with recoil and a wide rotation angle so that the game experience does not differ from real driving. There are also special game racing chairs, such as Secretlab Omega or Logitech G x Herman Miller Embody.
Ideas for Strategy Games
In a strategy game, you win when you are one step ahead. Strategy gamers know firsthand how to create their own game, unique and inimitable. Therefore, the maximum free space on the table is important for taking notes, planning, and anticipating different scenarios.
Even if you have enough space for a notepad and pen or a magnetic whiteboard to draw a strategy, you still need a lot of free space around the monitor to stay focused.
Otherwise, you can avail of a compact entertainment center or video rack system to unload the space.
A wide table with drawers will also work, especially for a gaming space used as a work or study desk. And similar to shooter players, strategy gamers will need a good backlit gaming keyboard.
Like Cybersports?
You'll need a cozy gamer's space if you're serious about professional Esports.
First, get rid of all distractions. It will be ideal if you can upholster the walls with soundproofing material.
The ergonomics of almost all eSports chairs are designed for long gaming sessions. The main thing is to ensure that the seat can adjust to your height. This is important because long hours in the wrong position will eventually affect your well-being.
Cybersports players will also benefit from a set of multiple screens. You should play and communicate with opponents and view statistics, especially in multiplayer mode. It is best to put one widescreen monitor for competitions and a couple of small ones for tasks.
The right lighting in the gaming room will help you get the right mood for the game and relax after the victory.
What Does the Ideal Gaming Place Look like for Playing Video Sports?
Do you play sports games like FIFA and Madden NFL? More than anyone else, you need a gaming room where you can lean back in an ergonomic chair and relax after an intense competition.
Many gamers recommend getting a widescreen display with a resolution of 5120×1440. It turns out that such a screen provides a view of 90% of the field in FIFA, which is a huge advantage during the game.
And, of course, enhanced crowd audio sound will add another level to the fanless game.
Basement Video Game Room Ideas for Horror Games
Horror is the most atmospheric and emotional genre of computer games. If you get inspired by cold skin, wet palms, and a heart that pops out of a chest, scroll through the list of horror games available on the market. After you pick a couple of games, you can proceed to design.
First, the lighting should be subdued but saturated. Your basement with no windows would be ideal for this purpose.
Now work on internal lighting. For example, you can place spot accent light above or under the gloomy decorations in the niches and on the walls.
Uplighters can create a truly impressive and stunning painting, hang creepy masks and phosphorescent inscriptions on the walls, and apply artificial blood stains, cobwebs, and other attributes of a real horror movie.
MMORPG Video Games
A true MMO player would need a large computer desk. Owners of stationary PCs and big part-time fans of online multiplayer games require a vast workspace to arrange several monitors or one widescreen display. You should also include a special microphone to chat with other users in real-time.
An experienced MMO gamer is likely to spend days, weeks, and even years in one of their favorite virtual worlds. Therefore, getting practical about equipping the gaming room is so important.
You'll love themed game room decorations if you only play a specific MMO RPG (like World of Warcraft). There are keyboards for the WoW game with a special set of buttons that correspond to individual control modes. The same applies to Lord of the Rings online.
As for characters from WoW, Lord of the Rings, and other MMOs, you can find numerous print selections to satisfy every taste. These small details will add to the themed atmosphere of your gaming room.
Action Games
Action is the fastest-growing game genre for PCs and consoles.
If you are reading this, you are most likely familiar with what it means to be on the verge of excitement and gaming aggression. But regardless of seething emotions, it is always more pleasant to enjoy games in a comfortable and cozy atmosphere, where you can forget about everything and dive into the virtual world of achievements and victories.
The first thing that comes to mind when creating a game room for action gamers is sound. Most modern games of this genre utilize a multi-channel soundtrack. You may consider Dolby or Savant. So, having five or even seven speakers doesn't sound all that pretentious.
Don't have enough space? No worries. Place your multi-channel soundbar directly on your desk or entertainment center.
Fans of a particular game should decorate their basement lair accordingly. Those who like the Halo series can opt for the futuristic design. The most modern high-tech furniture and accessories will do perfectly.
Choose any items that exude a wonderful high-tech future. Smart lighting can highlight the angular and modern lines of futuristic action games.
You can play with the palette, find the optimal color scheme, and even choose several lighting modes for different missions and levels.
Follow Your Heart When Choosing a Gaming Room Design
So you have decided to set up a gaming room in your basement. Remember that it will be your territory; only you know what is right for you. Try temporary options when you doubt a color or theme and see which works best.
Make your basement a place to relax and reboot. Sometimes, we all need an escape from unpleasant reality, so make your hideout perfect. And Expert Tech will help you achieve the maximum audio and video outcome and design for the perfect game room.