5.1 Is Pushed Out by 3D Surround System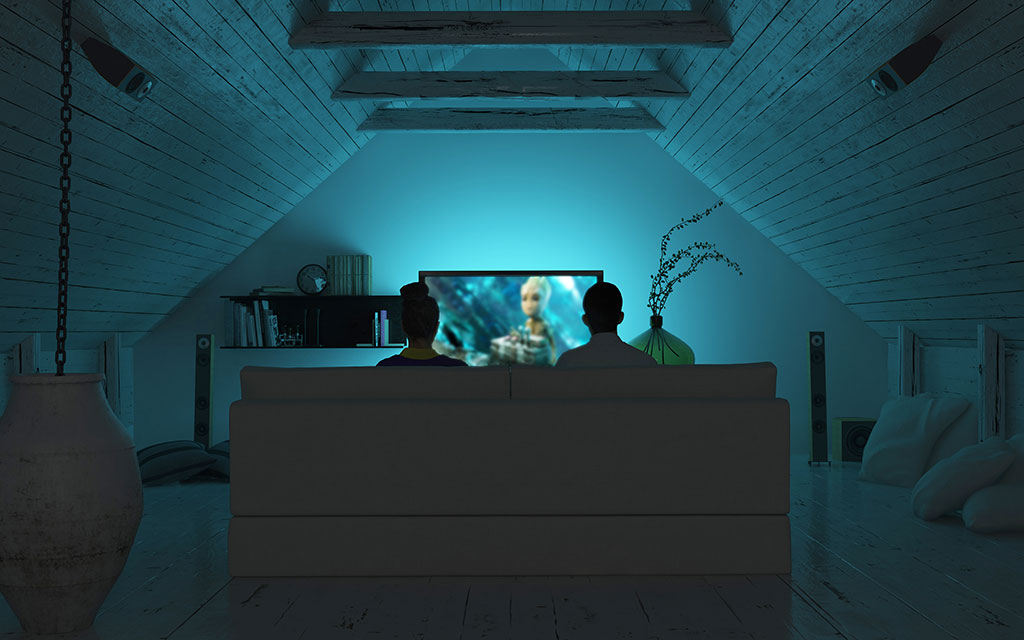 Perhaps you are wondering whether a new Dolby Atmos is worth it. You might be pretty content with your current 5.1 surround sound consisting of the front left, front right, front center, surround right, and surround left speakers, including a subwoofer. We agree it can be a good option but for small rooms. However, there are more advantages to the latest version of Atmos because it uses a new concept known as objects.
While the outdated system would fail to sync sound from many speakers, with Atmos, you can use 50 speakers, and they will scale up or down depending on the objects in 3D space and enjoy an awesome top-down effect. For example, if it rains in a movie scene, you will hear it coming from above.
So the truth is whatever surround system you are used to, one thing is undeniable – Atmos makes it better.
Why You Should Switch to Atmos
Dolby Atmos has become the go-to surround sound technology in the industry for home video systems: its virtual channels make you feel like the sound is coming from all directions. The technology is supported by most modern equipment: audio systems, soundbars, receivers, and even headphones.
The ease of setting up a home audio system is one of the advantages of Dolby Atmos over previous surround sound implementations. Nevertheless, if you are planning on your first surround sound, there are a lot of questions about how the Atmos system works. Expert Tech USA will address them in this blog post.
What is Dolby Atmos?
Dolby Atmos is a surround sound technology that extends the capabilities of multi-channel systems by integrating the concept of objects and additional virtual channels. Virtual channels can be located at any point in space to the left, right, and even above you, creating a feeling of three-dimensional sound.
The rich audio sound allows for an impressive cinematic experience: the speakers are installed at different heights along the walls, above and below the screen, and on the ceiling. As a result, a sound "surrounds" you and creates a feeling of being in the center of events.
Dolby Atmos expands upon pre-existing 5.1 and 7.1 multi-channel formats by adding virtual channels around the audience. This imitates a cinematic sound experience at home, enveloping listeners in a dome of sound.
The technology is also based on sound objects. Each sound and voice is assigned to exact audio objects, like a shooting man or flying drone in the movie, rather than simply attaching them to specific channels. These objects can be controlled and moved around the space creating an amazing 3D soundstage.
The desired experience is achieved without any tricks: the reflection of sound waves from the walls and ceiling makes it seem that the sound comes from all directions. At the same time, you can figure out exactly where the signal comes from.
A Dolby Atmos cinema can use up to 400 speakers, but a domestic environment uses less complex options.
The beauty of Dolby Atmos is that you don't have to break the bank to refurbish the room and install a dozen additional speakers to create a cinema-like experience at home. A soundbar, 2.1 system, or even headphones would be enough to get surround sound.
Do You Need Additional Equipment for an Atmos Sound System?
Not really. Modern TVs support Dolby Atmos to get the best sound experience without additional equipment. And while the sound of TV speakers is nothing compared to soundbars, stereos and home theaters with Dolby Atmos on a TV are a good option if you are on a budget.
The same goes for new set-top boxes, game consoles, and multimedia devices. If you recently purchased something like this, you likely already have a device supporting Dolby Atmos.
Unfortunately, this doesn't apply to the Sony PlayStation 4 and Sony PlayStation 5. Both consoles support 5.1 and 7.1 surround sound and are incompatible with Dolby Atmos. Sony has its own surround sound technology – Tempest Audio. However, owners of Xbox One and Xbox Series X|S can enjoy a modern version of surround sound, as both consoles support Dolby Atmos.
Before upgrading anything, check your existing devices for Dolby Atmos support. It is likely that most of the new devices at home are already compatible with the technology, so all you have to do is get speakers or a soundbar to experience the benefits of surround sound.
Which Audio Systems Are Suitable?
Unlike setting up theater systems, Dolby Atmos home setup is fairly straightforward. Manufacturers have created dozens of different systems for rooms of different sizes, making it easy to choose the right device.
There are three main options for listening to Dolby Atmos at home:
Multi-channel 5.1 systems – five speakers and a subwoofer.
Multi-channel 7.1 systems – seven speakers and a subwoofer.
Soundbars – a soundbar with two, three, or five speakers and a subwoofer.
Besides, any audio system can be expanded by adding additional speakers. Dolby Atmos is a modular system that allows listeners to add more speakers and expand their audio experience anytime. Most sound lovers prefer traditional options with a soundbar or 5.1 / 7.1 systems.
Which is Better for Dolby Atmos: 5.1, 7.1, Soundbar, or Headphones?
5.1 systems usually offer three front speakers and two side speakers. 7.1 systems add two additional speakers to this scheme to expand the set – you can install them at the rear or on the sides.
Since Dolby Atmos was initially designed for cinemas, the technology has introduced an additional channel dimension into the familiar 5.1 / 7.1 scheme. So full-fledged home theater systems prepared to work with Atmos are built according to schemes 5.1.4 and 7.1.4, where:
5/7 – five/seven speakers (front and sides);
1 – subwoofer;
4 – additional four channels on the ceiling.
However, channel installation in the ceiling in a domestic environment isn't an easy task. Hence, manufacturers came up with schemes 5.1.2 and 7.1.2, in which the last digit reflects the number of "virtual" ceiling channels. So, for example, in the Focal Sib Evo Dolby Atmos 5.1.2 system, the left and right speakers are equipped with two speakers so that the acoustics "reproduce horizontal and vertical waves towards the ceiling." The latter, according to Focal, mimics the way the audio system works in a movie theater.
Soundbars aren't as efficient as a multi-speaker setup. However, their compactness and rather high performance make them a suitable option for setting up a Dolby Atmos system at home.
Soundbars
Many soundbar models are equipped with a Dolby Atmos decoder and additional speakers and drivers to simulate a full movie theater sound. In addition, they can be scaled up to more advanced audio systems by adding speakers for the rear channels. The Sonos Arc, for example, uses 11 speakers, two of which are height-adjusted to give the feel of ceiling channels and can be scaled by connecting to wireless speakers that work as a pair of rear channels.
Headsets
You can also experience Dolby Atmos at home with Spatial Audio-enabled headsets. The technology changes the sound, creating the feeling of listening to audio from the ceiling, rear, front, and surround speakers.
Headsets with Dolby Atmos reproduce 360-degree audio that changes sound depending on the position of the head. For a complete spatial experience, the Corsair HS80 models are suitable for video games and Apple AirPods Pro/AirPods Max for music and movies.
How to Listen To in Dolby Atmos?
You need three components to enjoy audio in a Dolby Atmos format:
Audio system
Players
Audio tracks
Before purchasing a player or audio system, make sure that your current equipment is not compatible with Dolby surround sound.
Many newer Blu-ray and media players (such as the Apple TV 4K) support Dolby Atmos. The Xbox One, Xbox Series X, and Xbox Series S consoles are also compatible with the format, although they require downloading the dedicated Dolby Access app. The same goes for smartphones: most devices can accommodate spatial audio.
Movies
You must choose a device marked with the Dolby Atmos icon, meaning that the audio track is delivered in a new surround format. For example, many movies and series in the Netflix, Amazon Prime, Disney+, and Apple TV+ databases come with Dolby Atmos audio.
Music
When it comes to music, the largest catalog of spatial audio tracks is now available on Apple Music. In addition, music in Atmos is available on Amazon Music and Tidal. Other popular streaming platforms, such as Spotify and iHeartRadio, have spatial audio, but it doesn't sound as good as on Apple Music.
With Amazon Echo, you can simply ask Alexa to play the best songs in Atmos.
Do You Need an AV Receiver?
An AV receiver is not required to listen to Dolby Atmos audio. However, it can be a useful addition to an existing audio system – the receiver gives you more control over the sound settings. It makes it easier to upgrade and expand the system.
When buying an AV receiver, make sure it has an Atmos decoder.
Dolby Atmos-enabled soundbars do not require a receiver because it is already built into the soundbar.
What is Height Virtualization?
If upgrading or replacing your audio system with a new Dolby Atmos-enabled device is impossible, then Dolby Atmos can be implemented in software. Along with the advent of the format, the vendor developed a height virtualization technology, allowing you to get a "virtual" experience of listening to sound in Atmos.
Height virtualization technology is designed for devices that don't support Atmos at the hardware level. The Atmos software codec emulates the technology so that the user gets the desired sound with surround and overhead channels without changing equipment.
Height virtualization is available on many relatively budget AV receivers, such as the Denon AVR-X2700H and Pioneer VSX-534.
So is Dolby Atmos Worth It?
Atmos is like the 8K among UHD (Ultra High Definition) in the audio industry. It has what 5.1 surround sound lacks – an object-based concept, the ability to utilize many speakers without causing a mess, and a cinema-like immersive experience in a small space like your headphones. So Dolby Atmos is certainly worth it. The only competitor on the market is another object-based vendor – DTS:X.